Assessments
Starting with an assessment of their environment, we then work with the customer to identify and quantify the opportunities that will provide the greatest returns. We help to establish:
Goals for IT simplification & optimization, and the target environments
Disinvestment programs with clear understanding of financial impact (benefits!)
Cloud Blueprint & Roadmaps
Transformational Change Programs
Mitigation/remediation plan for security risks
Types of Assessments
Infrastructure
Discover and Document — Collect and document information from subject-matter experts and existing documentation on current and planned technology solutions.
Assess — Analyze and correlate current state infrastructure information. Identify gaps based on design principles and industry best practices.
Present Findings & Recommendations — Provide strength and opportunity feedback on current state, and review recommendations to attain the next step rate improvements for operational maturity, price/performance, productivity, quality, and managing risk.
AWS Best Practices
Assess your AWS Operations against the AWS Well Architected Framework (WAF)
Assess your alignment to the AWS Shared Responsibility Model
Independent TCO analysis for On–Premise versus AWS costs
The Hararei WAF Assessment Tool provides a guided walkthrough to enable clients to self–assess their own state against the framework. Please note that you must contact Hararei to receive the summary report
Security & Risk Analysis Program
Provide a truly objective third party review of the Security Program, technical controls, policies and procedures, and compliance with regulations
Identify and understand security risks and how best to prioritize the mitigation/remediation process
Provide benchmarks to help compare your Information Security Program to industry best practices
Prepare for potential regulatory audits
Application Migration Analysis
Hararei can help analyze applications migrating to Public and Private Clouds:
Application discovery & assessment
Determine method (6R's) for each application – Rehosting, Replatforming, Repurchasing, Refactoring, or Retain/Retire
Prioritization – identify and quantify the opportunities that provide the greatest value for your business.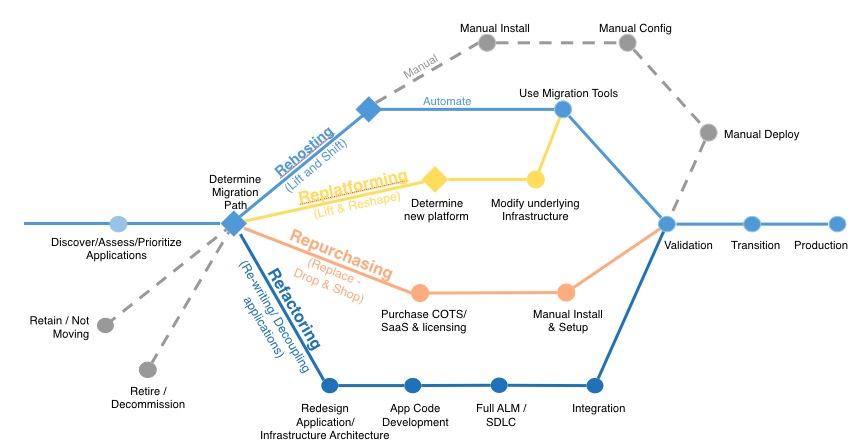 Application Migration Approach diagram from AWS